LOCUST Laser Weapon System (LWS)
LOCUST LWS
BlueHalo's LOCUST LWS represents a comprehensive counter-UAS system that delivers a complete kill chain providing a layered, broadband detection capability coupled with an electronic warfare standoff capability and a scalable high energy laser (HEL) effector to deliver a hard kill. LOCUST LWS is built upon a modular, open-systems architecture and is comprised of high technology readiness level (TRL) commercial off-the-shelf (COTS) products and sensors. LOCUST LWS is architected to address the inherent need for mobility and quick deployment. The system allows a single operator to take the system from a complete "off" state to fully operational in less than 15 minutes.
LOCUST LWS Components & Features
Electro-Optical (EO) Tracking
The LOCUST LWS is comprised of a gimbaled electro-optical (EO) tracking system mounted on top of an auxiliary subsystem enclosure. The EO payload consists of a pair of line replaceable sidecar housings, namely the fine tracking system (FTS) and the acquisition tracking system (ATS). The ATS includes wide field of view zoom cameras that support initial target detection and tracking and a target illuminator laser (TIL). The FTS sidecar incorporates a high power telescope with alignment subsystems, an eye-safe laser rangefinder, a high-resolution, high-speed fine tracking camera, and ability to precisely project the high energy laser to defeat the target.
Radio Frequency (RF) Surveillance System
The LOCUST LWS RF surveillance and effector system, mounted on a telescoping mast that is attached to a palletized base, consists of a quad-band capable electronic attack (EA) system, a 360° radar, and a long-range direction finder. The mast stows to support non-operating transport and storage.
Human-Machine Interface (HMI)
LOCUST LWS operations are managed from the human-machine interface (HMI) single operator interface, which runs on a Windows-based PC. The HMI software supports external network interfaces to LOCUST LWS and provides the capability to accept external cueing messages as well as distribute LOCUST LWS sensor video, time-space-position information (TSPI), and tactical information to higher echelons.
Learn More About Our LOCUST TATS and LWS Solutions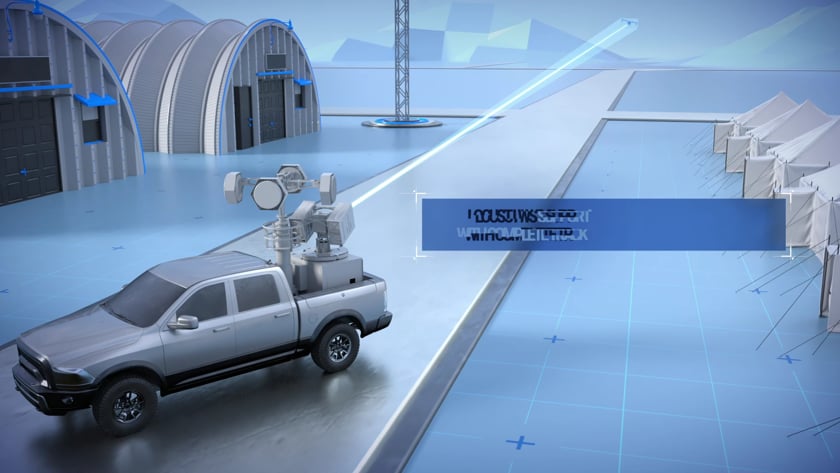 Contact Us
Want to learn more about LOCUST Laser Weapon System (LWS)? We look forward to hearing from you.